SAVE THE DATE!
The award-winning documentary "Unrest"  will be presented on Sunday 10/15/ 2017 – 2 PM at Hackensack UMC at Pascack Valley 250 Old Hook Road, Westwood, NJ. http://NJ http://www.hackensackumcpv.com/directory/directions/
Don't miss the opportunity to see this acclaimed documentary!
Video Preview: https://m.youtube.com/watch?v=MWIc9mKedF4
Presented by Bergen ME/CFS/FM Support Group and NJME/CFSA.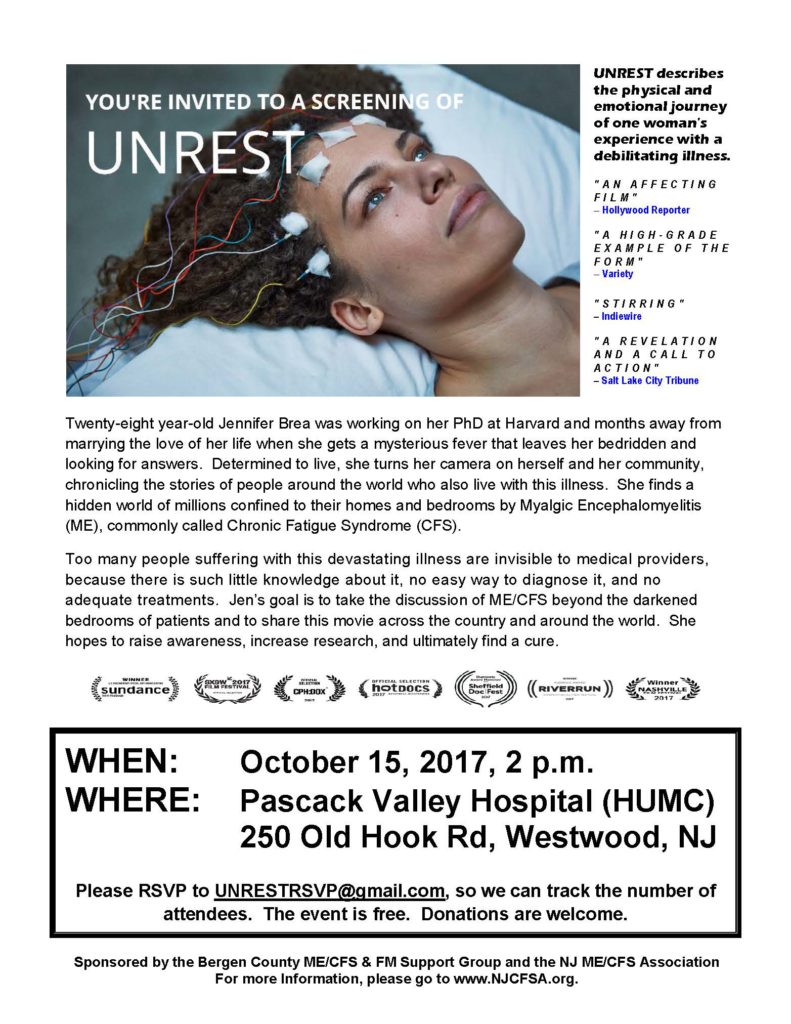 Additional Information – 8/30/2017
UNREST describes the physical and emotional journey of one woman's experience with a debilitating illness. Jen Brea, a Harvard Graduate, documents her struggle to find a diagnosis, her discovery of ME/CFS and chronicles the story of people around the world who also live with this illness. This movie illustrates the lack of knowledge and treatment options by our medical professionals for  ME/CFS patients. Through perseverance and the support of her family, Jen Brea documents her struggle for a better life. Her goal is to take the discussion of ME/CFS beyond the darkened bedrooms  of patients and to share this movie across the country and around the  world. Jen hopes to raise awareness,  increase research,  to achieve validation of MECFS and ultimately to find a cure .
Please RSVP to UNRESTRSVP@gmail.com if you can join us  on Sunday October 15. 2017 at 2 pm.  We need to track the number of attendees. This event is Free. Donations are welcome.  There is no penalty if you need to cancel.  We need to have an idea of the number who will attend.